Accommodation
Our cabins and mobile homes are comfortable options, whose popularity increases every year. As a guest, you need only to bring your own towels and bed linens – everything else is included. If you would forget, single-use sheets are available for purchase at the camping desk. As a guest you are responsible for cleaning the cabin / mobile home when leaving. You will find the equipment needed in the settlement.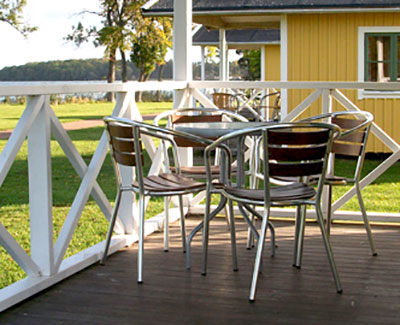 Four-bed cabin
Our four bed cabins are 24 m2 and beautifully situated by the beach. You can enjoy the beautiful view of Vättern on your front porch. Remarkable sunsets are frequent during the summer. They are all equipped with a stove, refrigerator and a complete kitchen. A total of 15 cabins are divided into three categories.
The first category is equipped with running water, which enables you to do your dishes in the cabin. A toilet is installed, and in order to shower or do your laundry you are re-directed to the Service Building. 

The second category have both toilet and shower. It is also equipped with a TV and microwave. 
The third and most luxuos category has two bedroom, a living room with a kitchen part, a bathroom, TV and a large veranda.
Mobile homes
We have ten mobile homes that are divided up into two categories.
Category 1's are intended for four people, but is equipped with a couch that can be folded into a fifth extra bed. They are 32,5 m2, and are comprised of two bedrooms, a living room and an open kitchen. The bathroom is equipped with both a toilet and a shower, and the kitchen is rigged with a stove, refrigerator, freezer and a full set of kitchen utensil. In the livingroom there is a large panoramic window that naturally lights up the caravan, and for those rainy days there is a TV placed in front of the couch.
The larger Category 2 homes are 40m2 and have in addition to everything mentioned above an extra bedroom, toilet and shower. They are intended for 6 people but as with the Catergory 1 homes the sofa can be folded into an additional bed. However, the kitchen utensil is meant for 6 people, so if you need any extra, contect the recption.
All our mobile homes have a large porch with outdoor furniture, and you can park your car right next to the accommodation.
Overnight cabins
Our overnight cabins are intended for two persons.
They are 8 m2 and are very spartanesq in their furnishing since they are intended for single night use. You can of course, however, stay for as many nights as you like. Cooking, showering toilet use and all other basic needs can be taken care of in the nearby service houses.
Six-bed Cabin
We now offer cottages intended for six people.
The living area is 58 m2 and comprised of two bedrooms, an open kitchen, a bathroom with both shower and toilet and a large living room. It also has a front porch for those beautiful sunsets over lake Vättern. The kitchen has a wide variety of utensil and is equipped with refrigerator, freezer, microwave, dishwasher, stove and an oven. The living room has a sofa, an armchair and a TV.